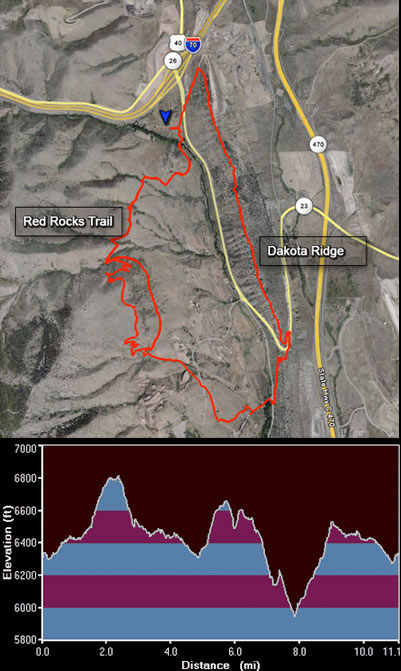 On the second day of my September Trip to Colorado I was more adjusted to the altitude and I had a ride in the mountains under my belt so I was feeling more confident. Unfortunatly it was cold and rainy and didn't look like it was going to get nice. By around 2:00 I figured I'd head out to the Red Rocks & Dakota Ridge Trails. I'd seen photos of these trails and they looked pretty sweet. I'd planned on riding these trails last year but never got around to it. I was pretty excited.
The weather managed to stay pretty tame. Although it was pretty cloudy it stopped raining and the trails were pretty tacky and not too slick. I started out from the Mathew Winters Parking lot and headed south on the trail towards Red Rocks Park. I took a short Detour on a trail that heads to higher elevation off the Red Rocks trail. After a little while I met up with two locals who I rode with and showed me around the area.
The next day we headed out to the actual Red Rocks amphitheater which was impressive as well.