I make a lot of trips to the grocery store on my bicycle and can only fit so much in my messenger bag or a backpack.  I wanted to be able to carry more groceries without having all the weight on my back. Also, I wanted to start getting into doing more multi-day rides and haul my own camping gear, supplies and food. So last summer I decided I'd get a trailer. You can spend anywhere between $1,000 to $100 for a trailer. If  you have the right equipment you can even weld one yourself. I didn't want to go the homemade route but I wanted something as cheap as possible.  I found one at Nashbar for just over $100.  It is made out of chromoly steel and looks pretty sturdy.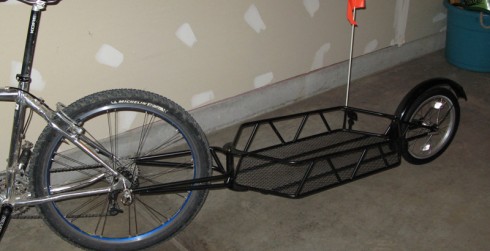 The assembly of the Trailer was fairly simple. There wasn't too much to it. All I really had to do was put the wheel, fender, and reflectors on. There's also a flag that comes up. At first I didn't think the flag was necessary but After I took it out on the street and realized how much length was added onto my bike with the trailer attached, I figured the flag would probably help cars see me. I also added a blinky to the back of the fender just as a precaution. Most cars aren't used to seeing a bicycle pulling a trailer so anything you can do do be seen will help.
After several rides with the trailer you'll notice a few things that differ from regular riding.
It's harder to make sharp turns. You need to account for the extra 5 feet or so in length that the trailer adds
It requires more braking power to stop. You have the momentum of the trailer from behind pushing at you when you hit the brakes.
When you are stopped and off the bike, standing the bike up against something can be difficult.
The trailer has a 50 pound weight limit and of course I had to push the weight limit to the max on my first trip to the grocery store. If you throw a storage bin in the back of the trailer you can carry quite a bit of groceries in the back. Essentially I was able to pull the size of approximately 4 standard grocery paper bags. The only issue was that the 4 bags I loaded up were a bit on the heavy side if not over the 5 pound max. Probably not a good idea to stock up on pop, canned foods and liquids. Save the heavier stuff for lighter trips. I think I had too much because the bike felt really unstable like my rear axle was going to snap or like if I leaned too far to one side the bike would topple over. I noticed it is also quite difficult to accelerate with a full load.
Last summer I took the trailer on a short bikepacking trip to test it out for carrying camping gear. I was able to pack a sleeping bag and pad, medium sized tent, tools, a small stove, food and water, and extra clothes and raingear no problem. Pulling the trailer for 30 miles didn't even seem to be a problem. There's a 80 miles one-way trail that I am going to try and tackle next.