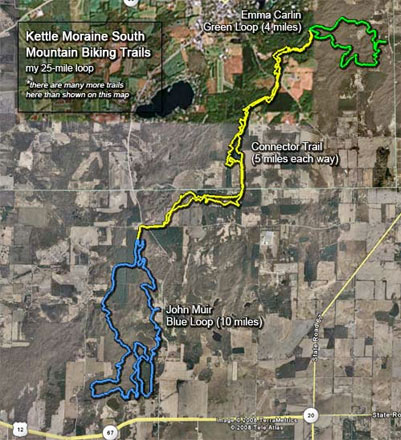 This weekend I took a trip up north to La Grange Wisconsin. The southern unit of Kettle Morine consists of two groups of trails: the John Muir Trails and the Emma Carlin Trails. Along with these two sets of trails, there's a 5 mile connector trail which joins the two sets. One great feature of these trails is that each trail is designated one way so you don't have to worry about any oncoming traffic, even on the connector trail (which is actually 2 one way trails). Since this is a state forest, you will need to pay for a trail pass and parking in the lot. The way I see it is that this is a great trail system and If I have to spend a little to keep it protected and in great shape, it's not that bad.
The John Muir Trails offer 5 loops. The longest of the John Muir loops is the 10 mile outer blue loop which has some pretty steep climbs, rocky descents, and really narrow switchbacks.
The Emma Carlin Trails are much shorter than the John Muir Trails, however, they seem more technical. The 4 mile green loop of the Emma Carlin section is probably the most technical of all trails I've ridden in southern Wisconsin. Although it's only 4 miles, it's some of the steepest, rootiest, and rockiest terrain of this area.
My favorite section of Kettle Moriane is the 5 mile Connector trail which leads from the John Muir Trails to the Emma Carlin Trails. On a weekend, the 2 sets of trails can get pretty crowded. Most of the crowds just stick to one trail group and never make it out to the connector trail so it's not used as frequently as the 2 trail groups. I think the connector trail offers some of the most diverse terrain of the area. From open fields, to pine forests, to rocky ledges, and open straight aways.