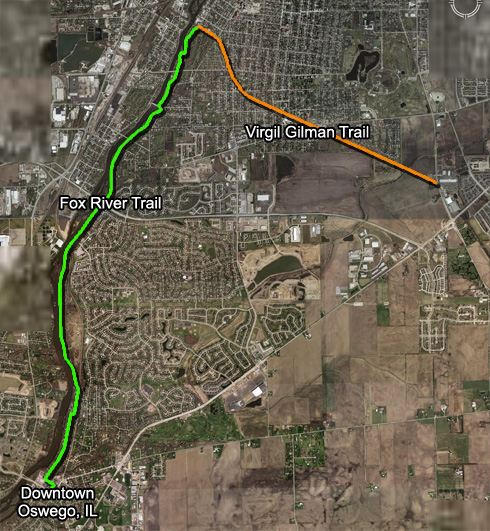 I've been commuting to work by bicycle in an effort to stay fit for mountain biking. I've got a pretty good 10 mile home-to-work route figured out. I am blessed because about 8 of the 10 miles is on paved bike paths. I live about 2 miles from the Virgil Gilman Trail in Aurora. From the Gilman Trail, I meet up with the Fox River trail and take that all the way into downtown Oswego where I work. I try to ride as much as I can. Most weeks I am able to commute every day unless I have meetings outside of the office.
Some Essential Gear for Commuting:

Strong Non-knobby Tires
Both my bikes are mountain bikes so purchasing a set of street tires was important. I managed to pick up a pair of slick tires from Performance pretty cheap when I bought my rollers for winter training. I was able to use those although they aren't quite strong enough to handle some of the terrain. Although my commute is primarily on paved bike paths, there are sections of the path which can be torn up or covered by fallen branches, or broken glass. It's good to have a thicker tire to avoid punctures, however, a traditional mountain bike tire has too much rolling resistance. I have a pair of Michelin Dry XC tires that aren't too knobby, however after riding everyday they can wear down pretty quick. I'd prefer a tire like the Continental Town and Country as soon as I can find a pair of them on sale. Although next year I might pickup a cheap beater road bike for commuting.

A Bell
That's right, your friends will laugh at you but who cares. When I ride the paths in the morning through Aurora I pass plenty of people who don't speak much English, or others who just don't understand the meaning of "On your Left!" With a bell I am able to announce that I am coming without speaking.

Platform Pedals
Typically when I ride I prefer clipless pedals, however I hate wearing my bike shoes at work all day and there isn't enough room in my messenger bag for an extra pair of shoes. I was able to get a decent pair of platform pedals pretty cheap from Blue Sky Cycling and they've been great.

Messenger Bag
a few years back for my birthday, my girlfriend bought me a Timbuk2 messenger bag. This has been a commuting must have for me. Timbuk2 bags are great because they also have a support strap which goes across your chest as opposed to just the shoulder strap. I can clip on a reflector light and I have enough room inside the bag to fit a folder with my work papers, my breakfast and lunch for the day, and a dry shirt and pants for changing into once I get to work.

Deodorant
This is another necessity. If you are going to be riding to work you have to take others into account. I work up a pretty good sweat when I ride whether it's 90 degrees of 40 degrees, and my co-workers shouldn't have to deal with my sweat. I always keep deodorant at work.

Bike tools, Pump, spare tube or patches
When you ride every day, your bound to get a flat every once-in-awhile. It's important to have the right tools to make a repair or fix a flat quickly so you're not late for work.

Tunes
When I ride singletrack I am a purist and the sound of my tires on the dirt and that of the trees in the wind is enough for me. However when I am riding to work, I find I can ride faster with tunes. I always keep the volume low so I am able to hear cars and people over the sound of the music. I have a wired remote which I can clip to my shirt near my neck so I can change song or volume level on my ipod without digging it out of my back pocket.